The expression "The
Icing
on the Cake" is used to refer to something good that happens on top of an already good thing. I have visited my two youngest daughters homes over the last couple of days and they had put up their Christmas villages. I was not going to start any of the Christmas decorating until the weekend after Thanksgiving, but after seeing theirs all lit up and looking so pretty I decided to carry all mine up and find a place to put them. Hubs put flat tops on our cupboards this past summer and replaced the badly installed plastic trim with some he made himself so I cleaned everything off one set and got my village arranged.
icing
on top be? The
icing
on top would have been to find the box with the snow and the rest of the cords with the lights that tuck into each house. After going up and down the basement steps about twelve times I still only have two lights. Maybe tomorrow I'll dig a little deeper but for now it will be a very dark little village. Linking up with the letter I for Alphabe-Thursday.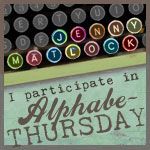 Thanks for stopping by! Blessings!