Well, I will just start off with this. I have been trying to post today for a couple of hours. Has everyone else been spinning their wheels trying to get pictures uploaded? I finally found the correct spot to type in my question and I read "change back to the old editor". So now I will try again!
I have quite a few Ball Mason Jars in my home that I put to many uses. Mostly I fill them with preserves or vegetables as that is what would be their normal use.
This week I picked up apples and have made applesauce and am waiting for a newly found recipe for apple butter to be ready to can. At the rate I am going on this post, I will probably be able to let you know if it is any good or not. This is where we store all our canned goods.
The last picture was dark but I wanted to show you that I have one shelf left. I usually fill every shelf but for some reason I have came up short this year. I must have been slacking.
These jars are also great to store craft supplies in. I have a lot of ribbon and trims stored in some.
And if you can find one of these lids
you can put together a pretty floral arrangement.
And what a
ball
I had this past weekend with some friends that came to spend a girls night at my home. This is the first time I have hosted this type of event and I was having so much fun that I totally forgot to take pictures except for one that the ladies suggested that I take. We all pitched into the dinner and when it was all on the table we had quite the spread!
I made Sloppy Joe's, Oven Sweet Potato Fries and a
Bean
Dip. My friends brought along an oriental salad,
buffalo
chicken stuffed jalapenos (poppers) and
banana bread
. We had a little wine with dinner and spent the remainder of the evening crafting. I so wish I would have taken pictures because these ladies are very talented. There was knitting and sewing going on. The next day we visited three local quilt shops and a primitives gift shop that was having a fall festival. We all had a
ball
! I know, where are those pictures? I'll do better next time.
But
of course I am linking up with this weeks letter
B
at
Alphabe
-Thursday.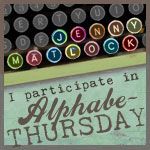 I hope everyone is having a wonderful week! As always
Blessings
to you all.
P.S.
Yumm
...I am eating toast with Apple
Butter
that I made in a crock pot. If anyone is interested in the recipe let me know and I will post it in the next couple of days. I have bought a couple of jars of Apple
Butter
in the last ten years and have thrown it away after hardly making a dent in it. This taste like the Apple
Butter
of my childhood.