It is time to link up with the weekly Alphabe-Thursday party and I have been adding a post each week of a project in process or finished by myself or hubs. This week I am going to show you these great desks that the dear man built for our grand daughters. I have been painting their playroom, at their house, in some pretty colors and have just finished the last wall. I now have to find someone to haul these wonderful desks down to lean against a pretty aqua blue wall. They are currently in an unused area of our basement.
These desks lean against the wall like a ladder. I still need to make some cushions for the seats. Hubs did the painting himself. He has claimed he will not be painting anything pink in quite a long time.
I do not know if you can see them in the picture but hubs has painted an emblem on each piece so the girls can tell the desks apart. They knew right away which was who's because the emblem signifies the nicknames that grandpa calls them. I also just finished a desk project myself that I posted about
here
. You can visit Jenny Matlock's and check out the other D posts or play along if you want.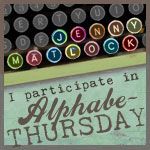 This is day 30 of the NoBloPoMo posting everyday in November. I have done it!!! There were a few days that I was busy and got home late in the evening and just did not want to sit down and write a post. But I managed to do it before midnight each day. I will say right now, I will not be posting everyday but I will try to post often. Have a great evening! Blessings from our home in the woods.