I recently bought a pattern to use for a wall hanging in my craft/sewing area. I pulled the fabrics out a couple of days ago and got started.
Mary Englebreit Fabric
The pattern on the left is the one I am using for this project.
Quilt
blocks
finished so far:
The smaller block will have the embroidery in the center. The larger block is the first star I have put together. There are a couple spots I would like to have done better but I am going to accept it and move on. I forgot to square it up before I took the picture. The light background fabric is not part of Mary Englebreit's fabric line. Thank you for stopping in for the Aphabe-Thursday party over at Jenny Matlocks.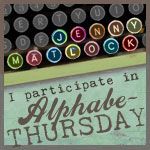 Have a wonderful evening. Blessings to you!