I have decided to join in a weekly party over at Jenny Matlock's. It is called Alphabe- Thursday and each week you link up a post with a subject that starts with the current weeks letter. I have not played the last couple of rounds because I was having a tough time thinking of something each week to share. This time I have decided to go with a theme. Hubs and I are usually busy working on one or more projects so I am going to share a project that is in process or a project that one of us has just finished. This may actually get me moving a little quicker on a couple of unfinished projects.
This week I am sharing the start of the sixth afghan I have made this year, one for each of the grands birthdays. This one is for one of the boys.
I started a different pattern with these same yarns last week and did not like how it was turning out. So I tore it out and decided to make another Navajo afghan like I made for one of the older boys.
Last April for brother number two.
The color scheme is different and I still need to get one more color of yarn so I can continue. I hope you will go check out the Alphabe-Thursday party and maybe even join in because this is week one.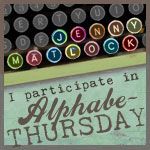 I also wanted to mention tonight that you will probably be seeing a lot more of me this month. November is National Blog Posting Month and I signed up with NaBloPoMo to post every day of the month.
The weekend is just around the corner! Blessings to all from our home in the woods.