I finished sewing up these camera bags a couple of weeks ago. One for me and one for my best friend. It was a thank you gift for inviting me to tag along on her vacation this fall. I meant to give it to her for the trip but I did not finish them on time and then my sewing machine had to go into the shop for a few days. I finally got it sent out to her so now I can post the end project. I got the instructions out of the Summer 2011 Quilts and More magazine. The designer is Nichol Magouirk. It is a little large for my point and shoot camera but it works great to store both the camera and the charging cord in.
Yellow and gray for my friend and the other is mine, it matches my camera.




I picked these colors because my friend was carrying a bag with similar colors at the time.
It was a fun little project. I thought I might make more of them for gifts but the button hole maker on my machine is little to be desired, maybe in the future when that dream machine becomes real.
It is the letter C week over at Jenny Matlock's Alphabe Thursday. Join in if you can.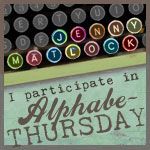 Blessings!