Isn't it wonderful to take a little vacation trip and find a spot that you truly want to go back to just because you enjoyed it so much. Hubs and I have gone on a few short trips and have always enjoyed each of them but a few years ago we stayed in Michigan's Upper Peninsula in a town called Grand Marais which is on the shore of Lake Superior. Since it is
Autumn
it was a little chilly this past weekend and I was so glad I took a light weight winter jacket along with me thinking I would maybe need it in the evenings. I wore that said jacket most of the day because we were either walking on the beach, in the woods or by a waterfall, chilling. To get to Michigan's Upper Peninsula you have to cross the very long
Mackinaw Bridge
.
Autumn
there were not bathing suits or shorts and as you can see by the waves in the next pictures it was too windy to do our usual sitting on the beach with a book.
Autumn
color in the trees but we went a little too early in the season. We spent some of our time visiting some of the local falls. There are many of them and if there was not a road closure we probably would have continued further down the coastline to the west and saw a few more. This one is Sable Falls. It is a 75 foot waterfall and tumbles over several cliffs until it reaches Lake Superior. We followed the path to the falls and then on to the lake shore and back. We missed the sign that said no pets allowed and took Ladybug with us on our walk. We are not rule breakers so we felt guilty when we saw the sign on the way back to the car. But the Bugs sure enjoyed her walk.
We also visited Tahquanenon Falls State Park on the Tahquamenon River. "Longfellow's Hiawatha:"by the rushing Tahquamenaw Hiawatha built his canoe." These are some pictures of the Lower Falls.
Homeward Bound




It was a wonderful
Autumn
trip! Now you ask why is she highlighting
Autumn
all the way through this post? It is
Alphabe-Thursday
time again. The letter is
A
this week. I was not prepared and this is the only post I had in mind this week. I may be named a cheater by the new instructor. If you want to check out this fun game and maybe even join in take a look see.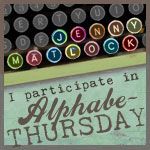 Hope you are all having a wonderful week! Blessings!