I did not link up to last weeks letter at Jenny Matlock's Alphabee-Thursday. I did not post at all from Sunday to Sunday. Just kinda hit a blank wall and did not know just what to write about. I visit
Mama Spark's World
and she is participating with
National Blog Posting Month
in which you need to post everyday for a month. I will tell you now that it probably takes me half a year to post that many times in the past. So I posted four days in a row, a record for me, and decided I might be able to do it.
Stopped at a barn sale on my way to the city today for my weekly shopping trip and a visit with my grand daughters. Bought this brand new Gooseberry Patch cookbook for four dollars.
These are great cookbooks. I have a few and can always find something new to try. And they always include wonderful comfort food and great gift ideas. I am looking forward to sitting down and picking out some new recipes to try. I also bought this great red basket, red is my favorite color, three new cookie cutters and a metal tray. All for a total of twenty bucks.
Now I have plans for this tray. I want to paint it the same type of red the basket is. What kind of spray paint should I get and do I need to sand and or prime it first?
Hope you will forgive me Jenny for not linking last week but here I am on board again. Hope everyone is having a great week! Blessings!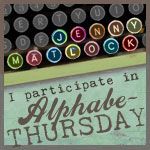 Also linking up with
A LA Carte's Junking Finds