I let the hens out of the run today so they could do some scratching and pecking at the grassy, leafy ground. Because of the large hawks we have I feel like I need to be out with them so they do not get carried off. Love my hens! When they are out of the run they move around pretty quickly and I mostly get pictures of their derrieres, which I think are fluffy and cute but I do not know if you all really want to look at my hen's behinds.
Since it is Thursday I am linking up with Jenny at: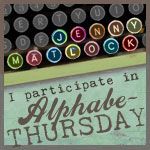 Cannot believe it is almost the weekend again. I have some fun planned with women folk. So looking forward to it. Have a great evening! Blessings!