I have three Buff Orpington hens in the hen house. They are a pretty gold color and mostly friendly, one more then the other two. They are also a broody type of hen and when I go out to collect eggs I usually find at least one of them setting on a clutch of eggs. It takes a lot to scoot them off so I can grab the eggs. Sometimes we can hear them squawking at us all the way back to the house. They look like very fat chickens but their feathers are loose making them appear to be heavier.
These pictures were taken from the outside of the hen house. Hubs built a small door that opens up on all four boxes so we can just collect from the outside.
Joining up with the gang over at Jenny Matlock's Alphabe-Thursday.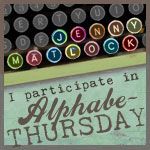 Have a great evening! Blessings!