I have been working on the family room this past month. The walls are painted. Yeah! Big job for me because I do not like heights and hubs has been laid up. But I got to the end wall and went as far as I was comfortable and hubs was able to just brush the rest on. It was a very small space over the highest window. We still cannot start on the trim because the doctor has not given hubs the ok to do a lot of lifting yet, I think he still has a five pound limit. So I am working around that and doing all the tweaking I can do on my own. I love old prints and have one that my Mom-in-law bought for me a couple of months ago that I just love. Its a very grey landscape and was in a very gold frame. It needed a little help and also needed a better spot to hang. Here is where I had it until I could decide what to do with it.
It is certainly not large enough to place over this couch which I realized after hanging it there. There was a lot of the gold missing on the frame.
I painted the center of the frame with black acrylic and rubbed the antique gold Rub n Buff over the spots missing gold and added some over the black in places because the frame was textured. Finished it off with some satin clear coat. The black added to the frame brings out the colors of the picture more.
And this is how it looks against the blue wall I have at one end of the same room. The original wall it was on has been painted also but I'll show you what I add to it later. I could not get a picture without the big windows behind me reflecting in the glass of the picture.
Just a little something I am linking up to to Funky Junks Saturday Nite Special where you can go see some really talented projects.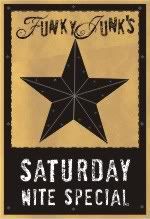 Thanks for coming by I hope everyone is haveing a great weekend. If you did not check out my previous post you can go there to listen to some awesome music!