C is for Chicken
C is for chicken, but not the Chicken Spaghetti recipe from Pioneer Woman Cooks cookbook, although it was yummy! It makes a lot and there is just Jeff and I so we ate it for dinner three nights. No, C is for the chicks that I am getting ready to place my first order for to fill up the chicken coop hubs built last fall. Here are the beauties I have on my list:
I put this scrapbook page together last night with pictures from the catalog I am ordering from and a picture of our coop that hubby built this past fall. I expect I will start a scrapbook when the little ladies come so I might as well get started for Alphabe-Thursday. I am planning on all girls because I really just want friendly egg layers. It was really hard to make a choice because I wanted them all. So I had to make my decision by the descriptions not the pictures. I made my choices by picking breeds that could be free range or confinement, cold tolerant, docile and and not very broody. I am hoping to free range some but we have fox and I think we will have to add a fenced section out the back end of the coop. The company I am ordering from will try and send the gender you order but I might get a rooster in the bunch. All that I can say about that is he better not be mean or he will end up in the Pioneer Woman's Chicken Spaghetti. I am linking up with Jenny Matlocks Alphabe-Thursday here: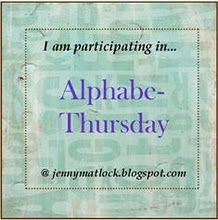 Go on over to Jenny's and check out all the other party participants entries. It is always fun to see all the different ways everyone uses the letter of the week. Thanks for stopping by, I hope everyone is having a great week!