G is for Game
G
is for the Carrom Board
Game
that I received after my
grandparents
passed away. All the cousins played this
game
when we had family
gatherings
. Our parents were usually playing
games
of Yuker while all all the cousins took turns playing Carrom. The Carrom
Game
Board company is in Ludington, Michigan. I have lived in Michigan for many years but I am from Indiana and that is where this
game
board was played with most of its lifetime. I have done some research on Carrom Board
Games
and found the one I own was produce during the WWII years which means my Dad and his siblings played this same
game
when they were children. I would call this the front because this is the side we always played on. If you click on the picture for a closeup you will probably be able to see the playing pieces I have stored in the old canning jar.
If you want to learn more about this
game
you can
go
to this site
http://www.carrom.com/index.php?option=com_content&view=article&id=47&Itemid=76
where they have the history of the
game
and pictures of other vintage
game
boards. I am linking up to Jenny Matlock's Alphabe-Thursday please try and check out the other participants entries today. There are so many interesting people playing along!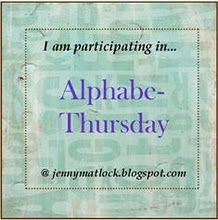 Thanks for coming by I hope everyone is having a
great
week!