H is for Healthy Bread
I recently joined the
H
BinFive bread group hosted by Michelle at Big Black Dog. I love to bake and cook but I have not had good results in the bread category. Michelle's group is baking their way through a new cookbook by Jeff
H
erlzberg M.D. & Zoe Francis called
H
ealthy Bread in Five Minutes a Day. The breads we are suppose to bake and link up on the 15th are Pesto Pine Nut Bread and Avocado-Guacamole Bread. I mixed up the Pesto Pine Nut Bread and a Soft Whole Wheat Sandwich bread this past Sunday. You let it go through the first rise on your counter top and then place in the fridge until baking day.
As you can see my container was not quite large enough for the whole wheat bread.
My week started out busy and I did not get to bake until Tuesday evening. I baked the loaf of Pesto Pine Nut Bread and I believe it came out as it was suppose to. We tried it with a slice of mozzarella and a little olive oil drizzled over it.
I also baked a loaf of the Whole Wheat Sandwich Bread. It came out fine except I read the recipe wrong and I needed to use more dough than I did. The next loaf I used the remainder of the dough but I think I should have adjusted the time more than the five minutes I added. This is what the two loaves looked like.
Hubs made some grilled sandwiches the next evening that were really yummy. Sorry, I did not get pictures of the sandwiches to share. The next evening I used the rest of the Pesto Pine Nut Bread to make a pizza. Hubs and I both liked it best this way.
There is only the two of us so I will not be mixing up more than one batch at a time from now on. As my husband said we have had a lot of
h
ealthy bread this week. Please go over the Jenny Matlocks to check out the rest of the participants in the Alphabe-Thursday game here.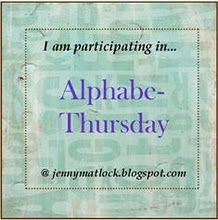 Of course I am also linking this post up to the
H
BinFive Braid on the 15th here:
http://www.bigblackdogs.net/
I promise
H
BinFive group the next Braid post will not be as long! Hoping to still try the Avocado-Guacamole Bread.
Thanks for stopping by and have a great day!