J
unk that I can make over for use in our home. I think the saying is Trash to Treasure, but I am claiming
J
unk to Treasure. I do buy new furniture when I find something I
j
ust cannot live without but usually when it comes to tables, bookcases, end tables, any wooden item I can repaint I am happy to recycle. Of course hubs is happy if I buy things that do not need a lot of work from his area of expertise but I am afraid I do not always consider that. I have a pile of furniture that is waiting for painting for the spare bedroom/my computer room where all the grandchildren sleep when they visit. I
j
ust need to finish up the family room makeover first. I will post some pictures of that probably in the next 2 weeks or so. Here is some pictures of my
j
unk waiting for some pretty paint.
There are two bed frames and a bed side table.
The white bookcase style use to be one of my
daughters beds. The one behind it with the
foot board my in-laws found on the side of a street
for free. They knew I was looking for another
bookcase type headboard so I could do some
similar decorative painting on them. And the little
table I bought real cheap to use on an enclosed
porch years ago. Time to put it to use elsewhere.
When I get this room done in a couple of months I will be sure to post a picture so you can see how I did with the makeover on this somewhat
j
unky furniture. In the meantime take a hop and a skip over (thinking about the Easter bunny) to
J
enny Matlock's blog to see what everyone else is sharing for the letter
J
.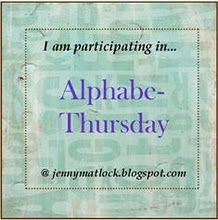 Thanks for stopping in! Sorry I did not get my blog anniversary gift quite together yet check back next week!