My style preference for my home is a combination cottage/farmhouse style. This was easy in the home we lived in for almost 30 years because it was an older home and smaller. We now live in a much more modern ranch style house that is going through some transformation on the interior. I am most comfortable with vintage and older furnishing around me. Hubs likes a more modern look but is content to let me do my thing. I have finished up this little room I sit in a couple hours a day blogging with all of you wonderful
bloggers
. You may or may not remember a few months ago I showed you a pile of mismatched furnishings
here
and I am going to show you what they look like now as I show you the before and after pictures of the finished room. This is the paint color and the boarder that was in the room when we bought the home.
When we moved in three years ago we just set up all the extra beds that we used when the grand children visit.
I have replaced these beds with these that I have painted to match.
As you can see, after asking all of you which side of the vintage quilts I should have facing up, I decided to keep the lavender up and turn the green side down as quite a few of you suggested. I am making new quilts to put on the beds in the future and will probably just fold the vintage ones and lay across the ends at that time.
I also painted the odd stands that I had to match the beds. The left one I decoupaged some blue fabric to match the blue in the curtains in the bottom shelf area.
How my computer desk looked before.
This is where it sits and how it looks now.
I got the idea on how to cover this lampshade from a tutorial at
Mary's Meanderings
. I had to do a little adjusting because the lamp shade frame I had bought a few years ago and was hanging around in my stash of junk was a little different. I used a jar that I partially filled with buttons and added one of those light kits to.
I believe I succeeded making this room over to the cottage style that I like. What do you like or dislike about it? I have a couple of chairs to paint and make some cushions for but I will have to get back to that later. I also need to find some or craft some art work for the walls and I will show you what I come up with as it gets done. I know this has been a rather long post with a lot of pictures and you have been very patient with me if you are still reading.
Linking up with Jenny
Matlock's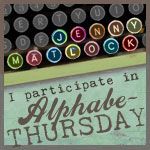 Thanks for stopping by and as always many blessings!
And I am spreading my wings and linking up here also