X is for Xylography
The art of printing texts or illustrations, sometimes with color, from wood blocks.
My oldest daughter is an artist and this block print is a piece of her art work that we own.
I will have to admit I did not know this before I searched the pages of a dictionary. I would just have called this a block print. I was stumped on
X
this week. The first two small dictionaries that I opened had about six words under the letter
X
. My hubs had a larger dictionary that had two full pages. So I read until I thought I found something I could post about that had meaning to me. You should next stop over to Jenny Matlock's blog and check out the other participants for this weeks Alphabe-Thursday. Only two more weeks to go so you will not want to miss the great info and pictures everyone has to share.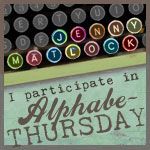 Thanks for stopping by! Blessings!