W is for Water Lily
I started taking pictures of the Water Lily we have growing in our front pond earlier this spring. I wanted to be able to show you how it goes from almost nothing to something really beautiful. And of course the very first picture I took I was thinking W for Alphabe-Thursday. We have had a lot of storms this past couple of weeks so the newest picture I took today does not have any open flowers, just a couple of blooms. But I did take pictures a couple of weeks ago with blooms. The first picture was taken sometime in May and the last two I took this afternoon.
Thanks for coming by for a visit! You should check out the other participants over at Jenny Matlock's Alphabe-Thursday meme. There is always something new to learn, some great stories and wonderful pictures.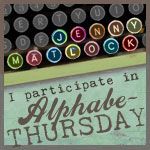 I hope you are all having a great week. Blessings to you!