Hi all! Sorry I have been missing in action. Oh you did not notice that I had? Bummer, I really need to post a lot more often. I did have some new posts all set up in my mind this week, and in my mind they have stayed. I did not even think I would be able to post for Alphabe-Thursday because some
u
gly, not very nice person,
u
surped ( to seize and hold (as office, place, or powers) in possession by force or without right) my computer with adware/spyware. So my computer has been to the local computer doctor this week and has came back just in time for Alphabe-Thursday. So on a happier note:
U is for United States Postal Service
My week started off wonderfully when I came home from work and found two packages waiting for me. When I first started blogging a little over a year ago my very first two blog friends were Happy Mrs C
http://happymrsc.blogspot.com/
and Debra at Common Ground
http://commonground-debrasvintagedesigns.blogspot.com/
. They have continued to be great blogging friends and I enjoy chatting with them as often as possible. Mrs. C and I even try and e-mail each other once a week with news we like to share with each other and hope to meet in person one day soon. So back to the packages. I receive gifts from each of these awesome ladies this week and on the very same day! And no it was not my birthday but it
sure felt like it.
The above picture is what came in the package from Mrs. C. There was some scrapbooking goodies, a homemade hummingbird feeder, a squeaky toy for Ladybug, notepads, cute kitchen spreaders and even a knife from her hubs for my hubs. And not to forget some awesome warming pillows with lavender in them.
The bug enjoying her new squeaky.
And these gifts came from Debra at Common Ground. Not only do I enjoy visiting her blog Common Ground but I also go over to her bible study blog
http://adayinthelife-commonground.blogspot.com/
as often as I can. There is where I found my way back to studying the bible after a couple of years I had set it aside. As you can see Debra sent me everything Scottie!
I have been very blessed this week by two awesome women and of course the United States Postal Service!
I know this is getting lengthy but I want to also show you another gift I won a few weeks ago.
I won this pattern with enough material to sew up this cinch sack from
http://www.hookedonneedles.com/
.
I feel like a putz because I took the picture and totally forgot to post about it. Pink is a favorite color of my oldest daughter so I think I will probably make this bag for her. I am linking up with Jenny Matlock's Alphabe-Thursday.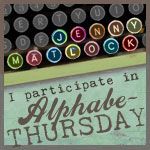 Even though I am linking up late again this week, you should take a hop and a skip over to check out what everyone else has linked up. I'm on my way over myself to catch up on my blogging friends! Have a great week hope to catch up with you all soon!