Hi all! This is going to be a quick and pretty short Alphabe-Thursday post. Hubs even went out back to take a picture for me to post this week. I did not even do all the homework myself. I might have to settle for a lesser grade this week. I have to be truthful a B would be fine I am not quite up to par.
T is for Tomato Plants
We put our garden in almost two weeks ago. We can salsa every year so we put in a lot of tomatoes, bell peppers and many varieties of hot peppers. These two rows are all tomatoes.
T is also for Tracks
These pictures I took myself. I actually was hoping to get a few more different kinds but we have had a lot of rain the last few days so here are the two I was able to find.
Turkey Tracks
Deer Tracks
That is all I have this week. I know it is kinda short after the bazillion pictures I posted last Thursday. But I am sure if you pop over to Jenny Matlock's you will find a lot of great stuff from the other participants.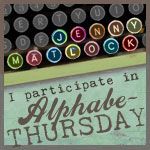 Blessing to all and thanks for stopping by!