L is for Ladybug
No no no...not that Ladybug.
This Ladybug!
Ladybug was my Christmas present in 2008. She was such a surprise because I had been trying to talk hubs into a dog for a while after loosing our 14 year old dog a couple of years before. I have always wanted a little black Scottie and hubs was just not going for it. But our three daughters can talk him into anything most of the time and our middle one went to work on him. She searched high and low and only found one breeder in the state that had puppies and went to work on hubs. I was put on the spot Christmas day and made to open the first present which I found quite strange because everyone knows how I do not like to be singled out. The present ended up being a frame with a picture of a Scottie pup in it. I have to say my blond was showing through because it took me some time staring at this picture before it hit me what it represented. Above is a picture of Ladybug the first day we brought her home.
Look those ears just pop up! She was really funny for a day or two she only had one up and the other was still laying down. I could not find a picture of that look
Her favorite buddy to curl up with has always been our oldest grandson.
After her baths she rolls all over until her hair is shooting out everywhere.
First haircut.
Her favorite past time.
Always wants to be where ever the grandchildren are.
And this is where she spent most of a months time after hubs broke his collar bone and had his surgery. Funny how dogs get blue eyes instead of red eye when you take a picture. And the red eye fix does not seem to work. I know this is a lot of pictures of our Ladybug and is probably starting to drag on way too long but we love her and I guess we brag about her almost as much as we do our children and grandchildren. Linking up with Jenny Matlock's Alphabe-Thursday so run on over and check out what the other participants have to share this week. I hope you did not mind I brought my pet to school this week Mrs. Matlock!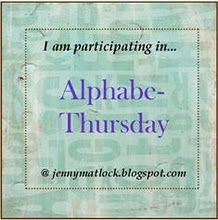 Thanks for coming by and as always I enjoy your company!