Here it is a new year and I have not shared anything that has happened in the last month of last year. It is time for Jenny Matlock's Alphabe Thursday, so I have decided to continue to post about the projects that are being worked on or finished around here. I missed week F so I am combining it with week G.
F
inished projects given as
g
ifts.
In December I finished number 6 afghan crocheted within a year for our grandsons number 5 birthday celebration.
Finished
Turning Five
And a few of you wanted to see what I did with the fabrics I shared with you
here
. I was making more gifts!
Notebook Covers
Lighting was better in this picture.


The inside of the covers.


And keeping with the hand made gifts I also finished a birthday present for my best friend.
Work apron for the sewing room.
Linking up with: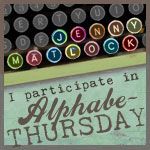 I invite you to go on over and check out all the other posts, you will find recipes, stories, travel destinations and a number of informative things being shared.
Blessings from our home in the woods!