Do not know what I was thinking. Actually I was thinking it is Wednesday and I forgot that we had one more week to post to the Alphabe-Thursday meme. This week is
Alphabet Soup
and we can post what ever we want. I was not prepared. I was not thinking about a post because last week was the letter Z. You know like Z end? So when in doubt what is a grandmother to do but show pictures of her grandchildren! Without much ado
G is for Grandchildren
. We have two groups of them. There are two granddaughters in one family and four grandsons in the other. We have had each group for a weekend this summer and the girlies came over to play with the boys for a while when they were visiting. Here come the pictures! There are many because I take many and have a hard time picking which ones to share.
Some swinging in the tree swing.
Bug with her favorite boy.
Some sandbox fun!
Of course there were trips to the ice cream shop and Popsicles in the back yard. The tubs of toys were out and the DVD was playing Disney movies both weekends. Gramps and I love it and we are always worn out and feel like we need a day off after everyone goes home.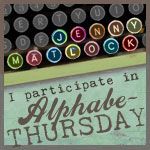 Have a great time checking out the other Alphabet Soup posts! Blessings!