Z is for Zucchini
Zucchini plants in our garden.
Zucchini Bread
And the favorite treat of the feathered ladies is what? Zucchini!
Yes I shred it for them. Yes they are spoiled hens. They had a hard time all managing to fit their heads in this bowl that I usually put their vege treats in so I brought out another one today.
It was smaller than the first one and they all gathered around it and the three left had the larger one all to their self. Not real sure how smart my hens are at this point.
But of course after finishing off the smaller bowl they all crowded around the larger one. There was not a bite left in either one within fifteen minutes time.
This is Dottie (or Fred) bossing the other ladies around. She is standing on the side of the bowl giving out orders like she always does.
Here is my favorite Florence. And she knows it too. I have finally named the last two of the Ameraucana hens.
Hattie
Lou
Lou, somewhat looks like a bearded lady.
This is the last week of Alphabe-Thursday so I hope you will all go over to Jenny Matlock's and enjoy this weeks stories, photos and great humor that everyone has been sharing with us for the last 26 weeks.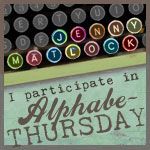 Sorry Mrs. Matlock that I did not share the great chicken treat info earlier in the week so you could take some along with you while you are working on you chicken sitting business. But I did not want to give away my
Z
post for the week. Hopefully you can still treat the one lonely chicken you are taking care of to some
Z
ucchini this week.
Thanks to everyone that has visited during this fun weekly party and I hope you will still stop in from time to time. Hope your week has been great! Blessings!