Red
has been my favorite color for the last few years. Here are some of my favorites.
I have started buying a set of this
red
Fiestaware when it goes on sale. I have owned the cobalt blue Fiestaware for over 20 years and decided I wanted to add the
red
to my collection.
My favorite Miche bag cover.
Cannot live without one of these anymore.
I found this
red
table at a resale shop. It was already painted with the perfect
red
paint.
We bought this couch after moving here a couple of years ago. We needed some furniture because we moved from a very small house to a much larger one and had a lot of empty space. I was totally surprised when hubs agreed to this color. I'm a lucky lady. Linking up with Jenny Matlock's Alphabe-Thursday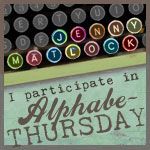 As always you should check out the other participants post that have linked up because I am sure you will enjoy what they have to share. Thanks for stopping by! Blessings!