I have almost finished sewing the quilt top together for my middle daughter. I still need to add some boarders to make it large enough for her king sized bed and I think I will be sending this quilt to the local quilter to do the quilting on her long arm machine. I think it is just going to be way more than I want to tackle.
Q

is also for

Q

ueen of the chicks.
Well you must have known I would work in the chicks since I have not posted all week. They are two weeks old in these pictures.
This guy is our chick charmer. Every chick he held would snuggle in and fall asleep.
This little one was hopping around and so excited that I could not get a chick in her hands quick enough.
I am late posting for Alphabe-Thursday this week but if you are visiting here I hope that you will still go over to Jenny Matlock's and check out the other participants posts.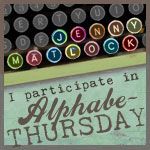 I know I said this last week, I am still a little busy and have not had much time to post but I should be back in the game in the next few days. Thanks for stopping by, I always enjoy having you come visit. It makes my day to read all your lovely comments!