P is for Poultry
I know I showed you a lot pictures of the chicks last week so I have given you all a break for a few days. But it is Alphabe-Thursday time and I just have to use
P
oultry for my
P
this week. I'll start off first showing the
P
oultry House, I actually call it the hen house, hubs built it last fall. He has just spent the last two weeks finishing the inside and
p
utting up a run off the back. The only thing left to do is
p
ut in the little doors for the hens to move in and out off.
P
retty fancy digs aren't they? As you can see hubs built a loft and that is where the hens laying boxes are. The boxes are in front of a door that we can open from the outside to collect the eggs. You can see the door for collecting eggs in one of the previous pictures. Under the ramp is a walkway that will lead to the door that goes out to the run, and the other area under the loft has boards for them to roost on at night. We are hoping that area with also help them stay warm in the winter. There is quite a few more square feet in front of this area where we walk through the
p
eople door that we can
p
lace food and water. Speaking of
p
eople door, it is still just the gray
p
rimer, as is the trim. The trim we are
p
ainting white but hubs thinks I should
p
aint the
p
eople door the same red as the rest of the hen house. What is your opinion? The side that has no windows, is to help keep the hens warmer in the winter. I am
p
lanning on adding a shelf of some sort with some
p
otted
p
lants to dress it up a little.
Day 6.
Day 7.
Day 8. The fluffy brown girl toward the center decided to fly out of the rubber maid tub today. We had to make some changes to that set up.
Day 9. The tall girl is Esther, she is a Black Jersey Giant and growing like crazy.
P
is also for
p
illow case. This is the sixth one I have made in the last month. This one is for my nine year old grandson. He had
p
articular requests for his so it took me a while to find just the right fabrics.
Thanks for stopping by and I hope you all go over to Jenny Matlock's Alphabe-Thursday to check out what the rest of the
p
articipants are sharing this week. I always learn something new and/or see something really interesting each week.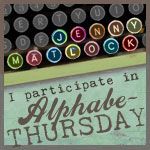 I have been out in the yard this week catching up on the gardening and I have a lot going on over the next couple of days but I will be back soon! Enjoy the rest of your week!