I was itching for a little stitching this week. Wanted to work on something Christmassy. I am still trying to finish the afghan for our grandson's birthday next week. Almost there. I also have some sewing projects to finish for gifts. They are not to involved and I think I will get them done...I think I will. I collected these patterns from SewHappyMe Christmas SAL a few weeks ago. There was one pattern each week for seven weeks and they have been burning a hole in my pocket. Each one was only available for a week and I was so careful to collect them and I want to work on them. They all go together into a banner, I may get it done and hung on Christmas Eve or New Years Eve...
I have started transferring the patterns, I used a red micro pen that a local quilt shop suggested. I am going to use only red floss and that makes the embroidery piece Redwork.
This is the first time I have used only red thread I am loving the look.
Can you see where I have already stitched?


It is E week over at Jenny Matlock's Alphabe-Thursday. I am late linking up but am still hoping to share and check out the other links. E is for Embroidery.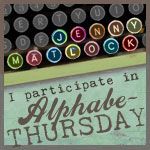 Happy Friday and Blessings!